"Finally, some REAL hero work. It's my sworn duty to look after those who can't look after themselves! Even rocks!"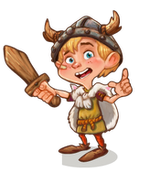 "Rocksitting" is quest 4 out of 13 in the
Occupational Hazards
story line. You get it from
Baz
after completing the "
Potion Commotion
" quest.
Tasks
Craft 3 Boom Sticks in case George's pet rock needs disciplinary action.

Don't worry, it's just used to scare him. This item can be crafted after you build a Workshop. Buy Crafting buildings in the Market.

Have 20 Stones to find the perfect playmate for Skippy.

Mine Rocks for Stones or collect Stones from Mining Camps.

Have 20 Pails of Water in case Skippy needs a bath.

Get Pails of Water from fishing.
Reward
"Thank you for the help, Little Man. You can look after Skippy anytime!
For completing this quest you will get

3,250 Coins,

65 XP and 3 Gloomed Rocks. This completes the Rocksitting quest. You can then proceed to the "Miner Treasure" quest.

X is Rocksitting Skippy.
For a rock, Skippy is pretty active. He definatly lives up to his name!
Get some Honey to stick Skippy in place.
Gallery
Ad blocker interference detected!
Wikia is a free-to-use site that makes money from advertising. We have a modified experience for viewers using ad blockers

Wikia is not accessible if you've made further modifications. Remove the custom ad blocker rule(s) and the page will load as expected.