"Those poor animals! These Swamp Roots are EVERYWHERE! We have to get them out."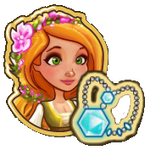 "Rooted In Evil" is quest 5 out of 10 in the
Enter: The Gloom Swamp!
story line. You get it from
Yvette
after completing
Listen! You Smell Something?
.
Tasks
Up your Purity Talisman production by having 2 Studios in your Kingdom.

Help text required here.

Craft 5 Purity Talismans.

Click on the Studio and Craft 5 Purity Talismans. You can collect Aquamarines for the recipe by mining Rocks.

Free 1 Animal trapped in Swamp Roots.

Use Purity Talismans to free animal from Swamp Roots.
Reward
"Thank you for rescuing my woodland friends! They must have been so scared!"
For completing this quest you will get

1,000 Coins and

20 XP. You can then proceed to the Spread the Word (Yvette) quest.
Gloom Roots
X is doing their part in cleansing the Gloom Swamp. Are YOU?
Take this 3 energy, free as many animals as you can!

Ad blocker interference detected!
Wikia is a free-to-use site that makes money from advertising. We have a modified experience for viewers using ad blockers

Wikia is not accessible if you've made further modifications. Remove the custom ad blocker rule(s) and the page will load as expected.