​
​"Get George something to eat so his belly doesn't attract more Gloom Yeti."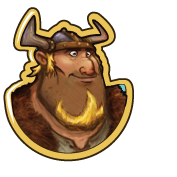 "Rumblings" is quest 3 out of 8 which you get from George during the "Breaking the Ice" quest line. It immediately follows the Dealing with Distractions quest.
Tasks
Have 5 Chicken Meat so George doesn't get hungry again!

Harvest 15 Tomatoes to give to George.

Plant Tomatoes in empty Farm Plots and harvest them when they're ready.

Craft 1 bowl of Tomato Bisque to quiet George's tummy.

You can craft Tomato Bisque in the Kitchen.
Reward
"Now that you solved that problem can you get out of this ice? It doesn't seem to be melting..."
For completing this quest you will get

500 Coins and

10 XP. You will then be able to start the Break the Ice quest.
Gallery
Ad blocker interference detected!
Wikia is a free-to-use site that makes money from advertising. We have a modified experience for viewers using ad blockers

Wikia is not accessible if you've made further modifications. Remove the custom ad blocker rule(s) and the page will load as expected.