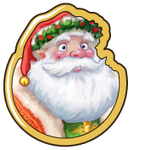 Sacked Out is quest 5 of 10 from the Save Kris Kringle mission you get from Kris Kringle . You get this Quest after finishing Sugar Rush.
Tasks
Quest
Goals

Craft 5 presents in your Gift Shoppe.

Hint: They can be any gifts including shoes and cake.

(At this point the only gifts you will be able to craft are Fruit Cake and Holiday Slippers. Each take an hour to craft.)

Harvest 20 Flax for making Rope.

Craft 4 Rope to stitch up Kringle's Gift Bag.

Hint: Craft Rope at the Workshop. (Need x5 flax per rope and each rope takes 5 mins to craft).
Reward
For completing this mission you will get 1000 coins and 20 XP. You would also be able to start the Cheer and Present Danger mission.
Ad blocker interference detected!
Wikia is a free-to-use site that makes money from advertising. We have a modified experience for viewers using ad blockers

Wikia is not accessible if you've made further modifications. Remove the custom ad blocker rule(s) and the page will load as expected.