"Have you smelled some of your subjects? PERFUME, that's all I'm sayin'."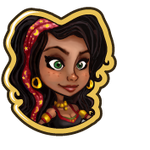 "Scents and Sensibility" is quest 4 out of 11 in
The Diva
story line. You get it from
Izadora
after completing
Brush With Danger
.
Tasks
Have 15 Ogre's Belches for Izzy's exotic new fragrance.

Clear Grass to gather 15 Ogre's Belches.

Sweeten Izzy up by harvesting 10 Strawberries from Neighbors' Kingdoms.

Harvest Strawberries from your Neighbors. The Strawberries this time of year smell the best!

Have 5 Glass for perfume bottles.

This item can be crafted after you build a Studio. Buy Crafting buildings in the Market.
Reward
"Yeah... Ogre's Belches are called that for a REASON. Yuck!"
For completing this quest you will get

5,250 Coins and

105 XP. You can then proceed to the "Model Citizen" quest.

X smells kind of funky!
Thankfully, X and Izzy are covering up the smell with perfume... a LOT of it!
Don't be stinky! Take some free Ogre's Belch!
Gallery
Ad blocker interference detected!
Wikia is a free-to-use site that makes money from advertising. We have a modified experience for viewers using ad blockers

Wikia is not accessible if you've made further modifications. Remove the custom ad blocker rule(s) and the page will load as expected.