"Don't forget, the more o' the Rainbow we restore, the more gold there will be at the end. Let's summon the Blue Band o' the Rainbow!"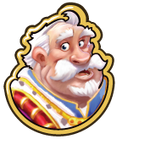 "Seashells By The Seashore" is quest 7 out of 12 in the
Over The Rainbow
story line in honor of St. Patty's Day. You get it from
Sullivan
the Leprechaun after completing the "
In the Rainbow's Defense
" quest.
Tasks
72px

Have 4 Empty Bottles to capture the magic of the ocean that makes the seashells so blue.

Ask your friends for Empty Bottles. You can also get this from fishing.

Go fishing 6 times to gather materials for Blue Seashells.

You can fish by tending your pond.

Restore the blue band of the Rainbow with Blue Seashell Charms.

Crafting +3 and +6 Blue Seashell Charms will restore the Rainbow Magic faster.
Reward
"Ah yes, I can hear the waves o' the ocean crashing on shore now. Yer doin' great!"
For completing this quest you will get

1,750 Coins and

35 XP. You can then proceed to the "Greener Pastures" quest.

Why so blue?
X is summoning the blue band of the Rainbow.
Take this Pail of Water and summon a blue band of your own!
Gallery
Ad blocker interference detected!
Wikia is a free-to-use site that makes money from advertising. We have a modified experience for viewers using ad blockers

Wikia is not accessible if you've made further modifications. Remove the custom ad blocker rule(s) and the page will load as expected.