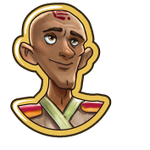 "We have to put a stop to the plan in Faugrimm's Book. Quickly, let's get your Kingdom in order."
"Secrets Revealed" is quest 2 out of 10 in the The Book of Sinister Schemes, Part 1 story line. You get it from Alastair after completing "Breaking the Book".
Tasks
Have 30 Farm Plots in your Kingdom so you can produce enough food for your Kingdom.

Task 1 help text goes here

Harvest 30 crops in your Kingdom to prepare for the worst.

Task 2 help text goes here

Craft 2 Leather so Alastair can tie the Book shut. It's been screaming at him.

Craft Leather at the Studio.
Reward
"Well done, but it appears there may be more to this spell than meets the eye. Keep working while I try to decipher more of this sinister Book."
For completing this quest you will get

3,260 Coins and

65 XP. You can then proceed to the Be Prepared! quest.
Facebook wall post message goes here
Ad blocker interference detected!
Wikia is a free-to-use site that makes money from advertising. We have a modified experience for viewers using ad blockers

Wikia is not accessible if you've made further modifications. Remove the custom ad blocker rule(s) and the page will load as expected.