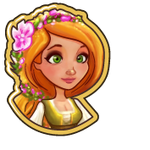 "We are getting pretty close to Genevieve's Tower. Probably within smelling distance. Let's get Quinn cleaned up!"
"Sensible Scents" is quest 10 out of 13 in the To Woo a Maiden questline. You get it from Yvette after completing "Hazel's Boy Toy".
Tasks
Fish in Amouria 2 times to find Pails of Water for Quinn's bath.

Click on ponds in Amouria to find Pails of Water.

Tend 5 flowers in Amouria to make Quinn smell nice.

Click on flowers in Amouria to tend them.

Collect 3 Love Dust to prepare for the deeds ahead.

Click on anything in Amouria to find Love Dust.
Reward
"If Quinn is half as sweet to Genevieve as he smells, then getting them together really might work!"
For completing this quest you will get

1,000 Coins and

20 XP. You can then proceed to the Bridge of Trust quest.
Facebook wall post message goes here
Ad blocker interference detected!
Wikia is a free-to-use site that makes money from advertising. We have a modified experience for viewers using ad blockers

Wikia is not accessible if you've made further modifications. Remove the custom ad blocker rule(s) and the page will load as expected.