"Whew, the trap is all done! Now let's set it so we an catch the Giant!"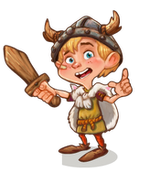 "Setting The Trap" is quest 8 out of 10 in the
Bump in the Night
story line. You get it from
Baz
after completing the "
Creeper Trap
" quest.
Tasks
Place the Giant Trap from your inventory.

From your inventory, find Baz's Giant Trap and place it in your Kingdom.

Have 5 Mystery Meats to bait the trap. All Giants love that stuff!

Get this by asking friends.
Reward
"Let's set the Giant Trap right there! Uh... just one last thing..."
For completing this quest you will get

1,750 Coins and

35 XP. This completes the Setting the Trap quest. You can then proceed to the "Baiting the Trap I" quest.
X is setting a trap!
X's got the trap in place. Now let's hope the Giant likes Mystery Meat!
Have some Mystery Meat to satisfy your inner Giant.
Gallery
Ad blocker interference detected!
Wikia is a free-to-use site that makes money from advertising. We have a modified experience for viewers using ad blockers

Wikia is not accessible if you've made further modifications. Remove the custom ad blocker rule(s) and the page will load as expected.