"Let's start by summoning the first Unicorn Mage - Generosity. Her bake sales are legendarily charitable."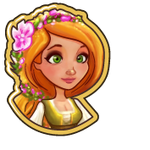 Sharing is Caring
is quest 2 out of 8 in the
The Seven Unicorns
story line. You get it from Yvette after completing "
Spirited Away
".
Tasks
Have 2 Care Pacakges.

Task 1 help text goes here

Craft 1 Unicorn Tart. With enough of these, we should be able to summon Generosity!

Unicorn Tarts can be crafted in the Kitchen,

Fill the Generosity Unicorn bar with 15 points by crafting Unicorn Tarts.

Craft Unicorn Tarts in your Kithcen to summon Generosity.
Reward
"We summoned one of the Unicorn Mages! Our plan is working! I think she's doing something to the Invocation Statue!"
For completing this quest you will get

1,000 Coins and

20 XP. You can then proceed to the Start Light, Star Bright quest.
Sweet tooth? No, sweet horn!
X summoned the Generosity Unicorn with the power of baked goods!
And now they want to share the love. Make some sweets of your own. Click for Cocoa!
Ad blocker interference detected!
Wikia is a free-to-use site that makes money from advertising. We have a modified experience for viewers using ad blockers

Wikia is not accessible if you've made further modifications. Remove the custom ad blocker rule(s) and the page will load as expected.