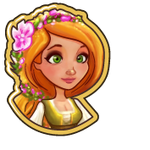 My mother was a siren. Maybe I can disguise myself as a mermaid and enchant a prince with song.
The "Siren Song" is a mission you will get from Yvette. You get this mission right after finishing the Beauty Rest mission. This is the 3rd mission from a series of 14 missions from the Lovelorn Quest.
Tasks
Quest Image
Task
Skip

Collect 15 Bass for a Mermaid costume

No fish were harmed in the making of this costume!

? Crowns

Collect 2 Shells to make a bikini top

I hear they are all the rage this season!

? Crowns

Have 4 Royal Jewels for Yvette's Mermaid costume

Ask friends for Royal Jewels. You can also get this from fishing.

? Crowns
Reward
For completing this mission you will get 1,500 Coins and 30 XP.

Peew! It's hard to charm anyone when you smell like dead trout! I need to go take a bath
Ad blocker interference detected!
Wikia is a free-to-use site that makes money from advertising. We have a modified experience for viewers using ad blockers

Wikia is not accessible if you've made further modifications. Remove the custom ad blocker rule(s) and the page will load as expected.