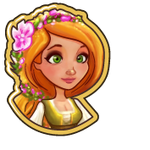 "Only two more Beacons to fix before we save the Great Unicorn Migration! Repair the Beacon of Friendship!"
"Six Degrees of Beacon" is quest 9 out of 10 in the Unicornucopia story line. You get it from Yvette after completing "The One Tower".
Tasks
Craft 2 Unicorn Fences to keep the Beacons safe.

Craft Unicorn Fences at the Pavilion.

Restore the Beacon of Friendship.

Click on the broken Beacons to restore it.

Have 1 Celebration Peacock.

Craft Celebration Peacocks at the Pavilion.
Reward
"Only one Beacon left. Even the icky Gloom can't stop the Great Unicorn Migration now!"
For completing this quest you will get

4,250 Coins and

85 XP. You can then proceed to the The Unicorn Tower quest.
X is all set for some final repairs!
So lets get to work!
Take this Energy to make sure you don't get tired!
Ad blocker interference detected!
Wikia is a free-to-use site that makes money from advertising. We have a modified experience for viewers using ad blockers

Wikia is not accessible if you've made further modifications. Remove the custom ad blocker rule(s) and the page will load as expected.