"Sheep get scared at night without a nightlight because of the Gloom. This is not natural!"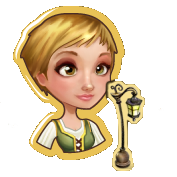 "Sleep Tight" is mission 8 out of 13 in the
Inn and Out
story line. You get this mission from
Kathleen
after finishing the
Penned In
mission.
Tasks
Collect 4 Lamp Oil to keep the night light lit all night.

Ask your friends to give you some Lamp Oil. You can also get this from fishing.

Gather 10 Wood Logs so you have something to burn.

Chop some trees to collect some Wood Logs.

Clear 5 Grass and Dead Trees to get kindling for fires.

Click on Grass and Dead Trees to clear them.
Reward
"They're sleeping! We didn't even have to read them a bedtime story."
For completing this mission you will get

1,750 Coins ,

35 XP and 1 Lantern. You would also be able to start the Wolves' Clothing mission.
Player "X" sleep's with the lights on.
Kathleen's Sheep are afraid of the Gloom. Good thing "Player" still has their night light. Hold back your snickers and get some XP.
Gallery
Ad blocker interference detected!
Wikia is a free-to-use site that makes money from advertising. We have a modified experience for viewers using ad blockers

Wikia is not accessible if you've made further modifications. Remove the custom ad blocker rule(s) and the page will load as expected.