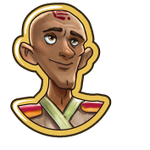 "I am intrigued by the mysterious energy I sense emanating from Mount Gloom. If only it weren't hidden beneath layers of slime!"
"Slime Time" is quest 5 out of 11 in the Faugrimm's Vacation story line. You get it from Alastair after completing "To Do List ".
Tasks
Have 6 Baking Soda, this with some Slime Dissolver can clean anything.

Ask Friends for Baking Soda.

Cleanse Mount Gloom of slime.

Craft enough Slime Dissolvers to cleanse Mount Gloom in the Kitchen.

Visit 6 Neighbors to warn them of Mount Gloom.

Task 3 help text goes here
Reward
"You know, facing an incompetent villain is rather refreshing. And I believe I've learned something that will help us reach the heart of Mount Gloom!"
For completing this quest you will get

1,500 Coins and

30 XP. You can then proceed to the Secrets in the Gloom quest.
That Deep Clean Feeling...
X has been cleaning a volcano!
Lend a hand and take home any Ogre's Belch you find.
Ad blocker interference detected!
Wikia is a free-to-use site that makes money from advertising. We have a modified experience for viewers using ad blockers

Wikia is not accessible if you've made further modifications. Remove the custom ad blocker rule(s) and the page will load as expected.