"Flowers!? Um... I guess that could be fun. Maybe we'll get to battle some Beasties!"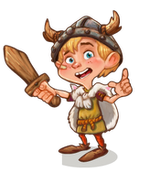 "Smell the Roses" is quest 1 out of 13 in the
Occupational Hazards
story line. You get it from
Baz
after completing
Free At Last!
in
The Lamont Swamp
storyline from
The Duke
. You must be level 26 in order to obtain this quest.
Tasks
Tend 15 Flowers. Watch out for Beasties!

If you don't have any flowers to tend, you can buy some from the Market.

Craft 5 Meat Sandwiches. Every adventurer needs a hearty meal.

You need a Bakery and a Butcher to craft Meat Sandwiches.

Gain 30 Reputation by helping your Neighbors keep their Kingdoms tidy.

Visit Neighbors and do activities in their Kingdom to earn Reputation. Spend some in the Market if you have the max..
Reward
Being the Kingdom Gardener doesn't seem like a good fit for me. Not enough DANGER!
For completing this quest you will get

3,250 Coins,

65 XP, 1 Trellis and 2 Hedge Fence. This completes the Smell the Roses quest. You can then proceed to the "My Stumps" quest.
Flower Power!
It's Spring time in X's Kingdom, and Yvette has them on flower duty!
Get a Flower Box to pep up our Kingdom too.
Gallery
Ad blocker interference detected!
Wikia is a free-to-use site that makes money from advertising. We have a modified experience for viewers using ad blockers

Wikia is not accessible if you've made further modifications. Remove the custom ad blocker rule(s) and the page will load as expected.