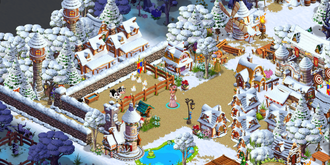 Snow in CastleVille covers the whole of your kingdom. It covers grass, trees, houses. However, it does not cover decorations or your courtyard. It first appered on the 21/12/2011 in the United Kingdom.
The snow that is in your kingdom symbolises the Winter season where there is snow. Snow is sometimes associated with the Chrsitmas period. The arrival of snow in CastleVille comes after the arrival of Kris Kringle
Ad blocker interference detected!
Wikia is a free-to-use site that makes money from advertising. We have a modified experience for viewers using ad blockers

Wikia is not accessible if you've made further modifications. Remove the custom ad blocker rule(s) and the page will load as expected.