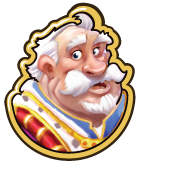 Prince loves to dig. Maybe if we collect some stuff and bury it he'll come dig the piles up and we can catch him in the act!
"Somewhere Here on Earth" is mission 2 out of 5 in the When Dukes Cry story line. You get this mission from The Duke after finishing the The Lost Prince mission.
Tasks
Quest
Goals

Collect 3 Animal Bones to bury for Prince.

Defeat Besties to collect animal bones.

Have 6 Swamp Boots to hide. No one will miss them.

Ask friends for Swamp Boots. You can also get this from fishing.

Perform 5 actions in the Duke's Kingdom to bury the Bones and Boots.

Visit the Duke and perform any 5 actions in his Kingdom.
Reward
"What a mess! All these dirt piles are sure to attract pirates! I hope Prince comes back soon and digs them up or I could be in big trouble..."
For completing this quest you will get

2,500 Coins and

50 XP. You can then proceed to the Playtime's Over quest.

Holes
All the holes in the Duke's Kingdom might attract pirates!
Grab a Wood Club and stand guard so the Duke doesn't get plundered!
Ad blocker interference detected!
Wikia is a free-to-use site that makes money from advertising. We have a modified experience for viewers using ad blockers

Wikia is not accessible if you've made further modifications. Remove the custom ad blocker rule(s) and the page will load as expected.