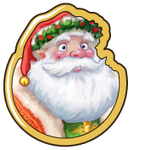 With Yulefest at an end, can I ask you for one last favor? I need a holiday of my own. Maybe somewhere with a beach.
"South for the Winter" is the 1st of 10 missions in the Winter Vacation quest chain obtained from Kris Kringle.
Tasks
Quest

Goals

Have 2 Fishing Bait for Kris Kringle's vacation.

Craft at the Workshop or buy in the Market.

Have 5 Wheat. It will make a nice straw hat.

Plant Wheat in empty Farm Plots.
Rewards
Ah, the perfect gear for my winter retreat! Now I just need a way to get to my destination.
For completing this mission you will get

500 Coins and

10 XP. You will also be able to start the Worth a Shot mission.
Ad blocker interference detected!
Wikia is a free-to-use site that makes money from advertising. We have a modified experience for viewers using ad blockers

Wikia is not accessible if you've made further modifications. Remove the custom ad blocker rule(s) and the page will load as expected.