"EVERYONE has the right to a good mani/pedi. Yvette and Sonja are gonna just LOVE this Spa! I can't wait!"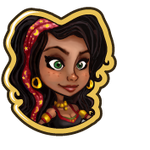 "Spa-tacular!" is quest 1 of 6 in the
Spa Treatment
story line. You get it from
Izadora
after completing the "
Truth in Advertising
" quest in the
Gloom to Glam
story line at Level 26.
Tasks
Have 85000 Coins to purchase a Royal Spa. Beauty comes at a price!

Task description here...

Buy a Royal Spa and place it in your Kingdom.

Task description here...

Have 8 Fluffy Bath Robes to make this place a girl's dream-come-true!

Ask Friends for Fluffy Bath Robes. You can also get this from fishing.
Reward
"Ooooh! I want one of those Fluffy Bath Robes. They look SO cozy!"
For completing this quest you will get

2,500 Coins and

50 XP. This completes Spa-tacular! mission and you can now start the Chocolate Delight mission.
Spa-Tacular!
X is ready for a day of pampering.
Get your own Candle to set the mood.
Gallery
Ad blocker interference detected!
Wikia is a free-to-use site that makes money from advertising. We have a modified experience for viewers using ad blockers

Wikia is not accessible if you've made further modifications. Remove the custom ad blocker rule(s) and the page will load as expected.