Some creepy little man will teach me to spin straw into gold if I can guess his name. Can you Help?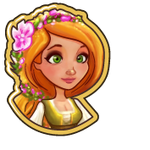 The "Spinning Wheels" is a mission you would get from
Yvette
. You get this mission right after finishing the
Hairy Tale
mission. This is the 5th mission from a series of 14 mission of
Lovelorn Quest
.
Tasks
Quest Image
Task
Skip

Collect from 1 House in 3 neighboring Kingdoms to discover the man's name

Visit neighbors and look for the coin indicator above houses.

? Crowns

Have a Tailor so Yvette has somewhere to work

Buy a Tailor in the Market

? Crowns

Have 20 Wheat Bundles to spin into gold

Wheat takes 24 hours to grow

? Crowns
Reward
For completing this mission you will get 1,500 Coins and 30 XP.

I think all I spun this straw into is a bad case of hay fever - achoo!
Ad blocker interference detected!
Wikia is a free-to-use site that makes money from advertising. We have a modified experience for viewers using ad blockers

Wikia is not accessible if you've made further modifications. Remove the custom ad blocker rule(s) and the page will load as expected.