"Mia just finished a new Valentine cook book 'Spread the Butter, Spread the Love' and she's touring Kingdoms to promote it! You should get ready for her visit!"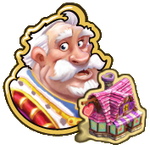 "Spread the Love" is quest 2 out of 10 in the Spread the Love story line. You get it from
The Duke
after completing "
Who's Coming?
".
Tasks
Have 1 Valentine Shop to start spreading love in your Kingdom.

Purchase in the Building section of the Market.

Get some cooking ingredients ready. Harvest 5 Crops.

Click on empty Farm Plots to plant Crops.

Collect 3 Fancy Hair Combs. They'll make great gifts!

Ask Friends for Fancy Hair Combs. You can also get this from fishing.
Reward
"Mia's cook book is about spreading love. Love is a powerful weapon against the Gloom. You should show some love to the people of your Kingdom!"
For completing this mission you will get

750 Coins and

15 XP. You can then proceed to the From the Heart quest.
Who's coming to visit?
X is getting their Kingdom ready for a special visitor!
Grab some coins and get your Kingdom ready, too!
Gallery
Ad blocker interference detected!
Wikia is a free-to-use site that makes money from advertising. We have a modified experience for viewers using ad blockers

Wikia is not accessible if you've made further modifications. Remove the custom ad blocker rule(s) and the page will load as expected.