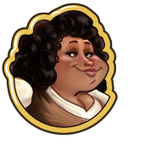 "The Duke is coming over for dinner tomorrow night! We've got to get this place looking respectable. Quickly now!"
"Spruced Up" is quest 4 out of 10 in the How Sweet questline. You get it from Mia after completing "Piece of Cake".
Tasks
Buy and place 5 new Decorations.

Buy Decorations in the Market under Decor.

Clear 15 Grass

If your Kingdom has no Grass you can buy more in the Market.

Tend 25 Flowers in your Kingdom.

Click on Flowers when they're ready to tend them.
Reward
"Ahh much better. Now that the Kingdom is nice and tidy, I'm almost ready for dinner with the Duke!"
For completing this quest you will get

3,250 Coins and

65 XP. You can then proceed to the Dolled Up quest.

X is sitting pretty!
X is upping the ambiance of their Kingdom for Mia and the Duke's date!
Click to get a Flower Box and make your Kingdom beautiful!
Notes
Clearing Grass in Neighbors' Kingdoms also counts.
Ad blocker interference detected!
Wikia is a free-to-use site that makes money from advertising. We have a modified experience for viewers using ad blockers

Wikia is not accessible if you've made further modifications. Remove the custom ad blocker rule(s) and the page will load as expected.