"The next Unicorn Mage to summon is the famous stargazer, Wisdom. I guess studying the stars can really enlighten you!"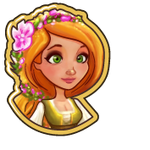 Star Light, Star Bright
is quest 3 out of 8 in the
The Seven Unicorns
story line. You get it from
Yvette
after completing "
Sharing is Caring
".
Tasks
Craft 1 Bottle of Ink to chart the stars!

Bottles of Ink can be crafted in the Studio.

Sell 3 Torches - less light means more stars!

Sell a Torch from either your inventory or your Kingdom.

Fill the Wisdom Unicorn bar with 24 points by crafting Star Jars.

Star Jars can be crafted in the Studio.
Reward
"That's two of the Unicorn Mages we've summoned! Let's keep it up - the sooner we find the rest, the sooner the Spirit Unicorn is restored!"
For completing this quest you will get

1,750 Coins and

35 XP. You can then proceed to the Fortune Favors the Bold quest.

Twinkle, twinkle little star...
X summoned the stargazing Unicorn Wisdom!
What's sparkly like a star? Diamonds! Click to get some!
Ad blocker interference detected!
Wikia is a free-to-use site that makes money from advertising. We have a modified experience for viewers using ad blockers

Wikia is not accessible if you've made further modifications. Remove the custom ad blocker rule(s) and the page will load as expected.