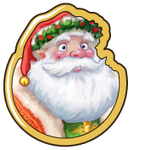 The 6th of 10 missions in the Winter Vacation quest chain obtained from Kris Kringle. It immediately follows the Reverse Engineering mission.
Quest Text
Those nasty Goblins damaged the Gift-A-Pult's targeting. Every shot fires into the deepest parts of the Gloom!
Tasks
Quest
Goals

Collect 4 Lenses to Work on the new design.

Tips: Ask Friends for Lenses.

Have 5 Chicken Meats to use for test launches.

Tips: Feed hungry Adult Chickens to find Chicken Meat (rare drop).

Visit 5 Neighbors to see if the launches are on-target.

Tips: Click on the Neighbor Bar below to visit Neighbors.
Reward
Are you sure you tested it enough? Okay, okay, I trust you!
For completing this mission you will get

500 Coins,

10 XP and
 2 Candy Cane Banner. You will also be able to start the North Pole Diet mission.
Ad blocker interference detected!
Wikia is a free-to-use site that makes money from advertising. We have a modified experience for viewers using ad blockers

Wikia is not accessible if you've made further modifications. Remove the custom ad blocker rule(s) and the page will load as expected.