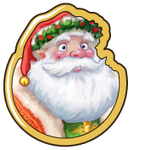 The 8th of 10 missions in the Winter Vacation quest chain obtained from Kris Kringle. It immediately follows the North Pole Diet mission.
Quest Text
These Thieves are stealing all my health food and tempting me with sweets! My diet is in grave peril!
Tasks
Quest
Goals

Banish the 3 Winter Gloom Thieves and take their Chocolate Bars!

Tips: Click on Winter Gloom Thieves to banish them. You can use Gloom Thief Potions to summon more.

Save his diet! Consume the Chocolate Bars before Kris Kringle can.

Tips: Banish the thieves to get their Chocolate Bars. Go to your Inventory to use Chocolate Bars.
Reward
Oh thank you! I'm sure eating all that chocolate was a big sacrifice.
For completing this mission you will get

750 Coins,

15 XP and
 1 Toy Train. You will also be able to start the More Power! mission.
Ad blocker interference detected!
Wikia is a free-to-use site that makes money from advertising. We have a modified experience for viewers using ad blockers

Wikia is not accessible if you've made further modifications. Remove the custom ad blocker rule(s) and the page will load as expected.