"I suppose we have earned a treat, but don't eat too many of those Fresh Sweet Cakes... we've got more archery practice to do!"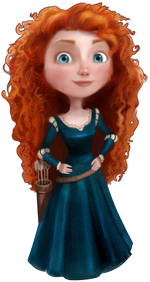 Sticky Fingers
is quest 8 out of 9 in the
Brave
story line. You get it from
Merida
after completing "
Bullseye
".
Tasks
Craft 1 Faux Bear Rug so you have something to eat Fresh Sweet Cakes on.

Don't worry, it isn't a real bear rug. Craft this item in the Archery Tent.

Fish 5 times in your Kingdom to wash your hands from any stickiness the Fresh Sweet Cakes caused.

Sure the Fresh Sweet Cakes are a mess, but they are delicious though.

Win the Forest Den from the Archery Tournament.

Earn points in the Archery Tournament to unlock special rewards.
Reward
"Mmm! Fresh Sweet Cakes are delicious! Good thing those arrows work even with sticky fingers!"
For completing this quest you will get

1,000 Coins and

20 XP. You can then proceed to the Farewell, Merida quest.

Faux Bear Rug
X is relaxing on their new Faux Bear Rug!
Don't worry, no bears were harmed in the making of this rug.
Ad blocker interference detected!
Wikia is a free-to-use site that makes money from advertising. We have a modified experience for viewers using ad blockers

Wikia is not accessible if you've made further modifications. Remove the custom ad blocker rule(s) and the page will load as expected.