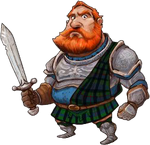 "Look at these rippling biceps! How could I have lost my fight with Cyril? I guess a little training couldn't hurt."
"Stirry Knight" is quest 4 of 9 in the From the Knight Sky story line. You get it from Tom after completing the "No Need to Panic" quest.
Tasks
Have 8 Chain Links to repair Tom's chain mail armor.

Ask Friends for Chain Links.

Craft Tom 3 Super Clobbers to fend off the Beasties.

Craft Super Clobbers at the Workshop.

Banish 3 Beasties. Tom needs the practice.

You can buy Beastie Potions from the Market to spawn Beasties.
Reward
"All that training has reinvigorated my spirit! I'm ready to go after Cyril... well, maybe after a nap..."
For completing this quest you will get

1,500 Coins and

30 XP. You can then proceed to the "Knight and Play" quest.

Tom is Feeling It
Okay, he rested for a while. That adventuring itch is back though.
Take some Ogre's Belch and start your own adventure.
Gallery
Ad blocker interference detected!
Wikia is a free-to-use site that makes money from advertising. We have a modified experience for viewers using ad blockers

Wikia is not accessible if you've made further modifications. Remove the custom ad blocker rule(s) and the page will load as expected.