"Either I'm hungry or I have a really bad feeling about the Swamps. I'll have a third lunch just to be sure it isn't me."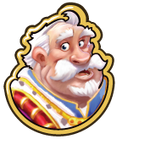 "Stocking Up" is quest 2 out of 4 in the Swamped story line. You get it from
The Duke
after completing "
Be Prepared
".
Tasks
Craft 1 Ropes in case you find yourself in a tight spot.

This item can be crafted after you build a Workshop. Buy Crafting buildings in the Market.

File:TravelersPouch.png

Have 2 Traveler's Pouches to carry your supplies.

Ask friends for these. You can also get them from fishing.

File:Torch.png

Buy 2 Torches to light your way through the Gloom.

Buy in the Decor tab of the Market.
Reward
"It's not my stomach. There is definitely something wrong with the Swamp. Time to get to the root of it!"
For completing this quest you will get

750 Coins and

15 XP. You can then proceed to the One Small Step quest.
X is making sure their Kingdom is in order before exploring the Gloom.
Take some coins and fund your own adventure!
Ad blocker interference detected!
Wikia is a free-to-use site that makes money from advertising. We have a modified experience for viewers using ad blockers

Wikia is not accessible if you've made further modifications. Remove the custom ad blocker rule(s) and the page will load as expected.