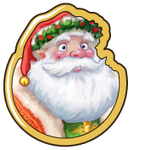 Whew, this crafting is hard work. I don't know about you, but I could use a sweet snack!
"Sugar Rush" is mission 4 out of 10 in the
Save Kris Kringle
story line. You get this mission from
Kris Kringle
(aka Santa) after finishing the
Slipping Up
mission. Mission time is set too 2 hours.
Tasks
Quest
Goals

Craft 1 tasty Fruit Cake from your Gift Shoppe.

Craft Fruit Cake at the Gift Shoppe.

Tend 1 Neighbors' Kitchens to look for day-old pastries.

Click on Neighbors' Kitchens to accelerate or collect items from them.

Have 3 Cookies to restore Kris Kringle's strength.

Ask Friends for Cookies. You can also get them from fishing.
Rewards
For completing this mission you will get

750 Coins,

15 XP and a Festive Wreath Lamp. You will also be able to start the Sacked Out mission.
Ad blocker interference detected!
Wikia is a free-to-use site that makes money from advertising. We have a modified experience for viewers using ad blockers

Wikia is not accessible if you've made further modifications. Remove the custom ad blocker rule(s) and the page will load as expected.