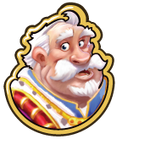 "The GEEZERS are impressed by a productive Kingdom. Let's put your Kingdom to work and who them how it's done!"
"Supply in Demand" is quest 3 out of 6 in the GEEZERS Tasks III questline. You get it from The Duke after completing "Gloom Busters".
Tasks
Harvest from Mines and Lumber Camps in your Kingdom 8 Times.

Lumber Camps and Mines will be ready to collect from more quickly if placed near Trees and Rocks.

Craft 2 Ice Cream so you have some tasty treats.

Craft Ice Cream in the Kitchen.

Have 20 Wool to show how healthy your Sheep are.

Tend Adult Sheep to collect Wool.
Reward
"Your Kingdom takes productivity to the next level! The GEEZERS will be pleased indeed!"
For completing this quest you will get

1,750 Coins and

35 XP. This will unlock Purple for your Royal Crest. You can then proceed to the This Is Flag Country quest.

Order up!
X is cooking up a storm! Come join the feast!
Don't forget the butter. Everything is better with a Stick of Butter!
Ad blocker interference detected!
Wikia is a free-to-use site that makes money from advertising. We have a modified experience for viewers using ad blockers

Wikia is not accessible if you've made further modifications. Remove the custom ad blocker rule(s) and the page will load as expected.