"It's a shame what the Gloom has done to this Swamp, but we can't get down on ourselves about it. Let's clean this place up!"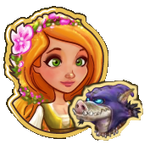 "Swamp Rejuvenation" is quest 8 out of 10 in the
Enter: The Gloom Swamp!
story line. You get it from
Yvette
after completing
Going Deeper
.
Tasks
Banish 2 Gloom Orcs. I hope you have sanitizer handy.

Click on Beasties to Banish them. You can summon more Orcs by using a Gloom Orc Potion.

Have 10 Bags of Sand to help fill in holes left by the Swamp Roots.

Help text required here.

Craft 2 Fertilizers to help bring the Swamp back to life.

Craft Fertilizer in your Kitchen.
Reward
"It could take a while ot get things back to normal around here, but this is a great start. Now let's take care of those scary trees!"
For completing this quest you will get

1,750 Coins and

35 XP. You can then proceed to the Cleansed With Flame quest.
Swamp Restoration
X is starting to breathe new life into the Swamp.
Take this 3 Energy in case Swamp Roots show up in your Kingdom.

Ad blocker interference detected!
Wikia is a free-to-use site that makes money from advertising. We have a modified experience for viewers using ad blockers

Wikia is not accessible if you've made further modifications. Remove the custom ad blocker rule(s) and the page will load as expected.