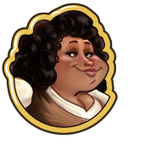 "The Duke is bringing the main course, but I'm a little worried that he'll, uh, get to it before I do. Let's make some dessert, just in case."
"Sweets for the Sweet" is quest 6 out of 10 in the How Sweet questline. You get it from Mia after completing "Dolled Up".
Tasks
Craft 2 Chocolate Covered Strawberries.

Chocolate Covered Strawberries can be crafted in the Kitchen after building a Bakery.

Craft 3 Candles for the table.

Craft Candles in the Studio after building a Tailor.

Collect 14 Milk Bottles.

Collect Milk Bottles by feeding adult Cows.
Reward
"Mmm-mm! Can't wait to eat some of this dessert after the Duke's dinner! And would you look at the time, the Duke will be here any minute!"
For completing this quest you will get

5,250 Coins and

105 XP, as well as 1 Support Quicken. You can then proceed to the Love Hurts quest.
Facebook wall post message goes here
Ad blocker interference detected!
Wikia is a free-to-use site that makes money from advertising. We have a modified experience for viewers using ad blockers

Wikia is not accessible if you've made further modifications. Remove the custom ad blocker rule(s) and the page will load as expected.