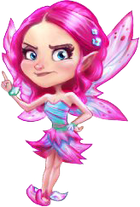 Sylphie (or Syl to her friends) is a flighty forest Fairy with a love for adventure.
Background
Back in olden times, the Fairy Queen (Alastair's ex-girlfriend) and the rulers of the realm formed an alliance to fight the first instances of Gloom. The Fairy folk, so vulnerable to Beastie attacks, took refuge in the remaining Kingdoms and used their magic to grow Gloom-dispelling Exploration Crystals.
When the Gloom receded, the Fairies returned to their nests in the forest. As a gesture of goodwill, they did leave one Fairy behind in each Kingdom to serve as an ambassador. The practice continues to this day. As a new ruler, you've just been appointed your own ambassador – Sylphie!
She's fluttering her way to your Kingdom now, ready to help your fight against the Gloom. Just don't underestimate her because of her size! Sylphie may be small in stature (even by pixie standards), but she's ready for big adventures. At last, she's leaving the nest for a life of excitement, fun, and danger!…DANGER?
Bring it on. When it comes to Sylphie, all that flitters is bold! Sylphie also grows exploration crystals to fight the Gloom so you do not have to collect shards from friends!
Sylphie's House
You can collect

2 XP from Sylphie's house every 24 hours.
Personality
Likes
New places and experiences.
Music and dancing.
Flying here and there and there and there…
Toadstools. They make great launch pads!
Dislikes
Sitting still. There's so much to do!
Human food. YUCK!
Jokes about her size.
Nails
Ropes
Quest Series
A Fairy's Tale (10 Quests)
A Gift For Sylphie
Gallery
Ad blocker interference detected!
Wikia is a free-to-use site that makes money from advertising. We have a modified experience for viewers using ad blockers

Wikia is not accessible if you've made further modifications. Remove the custom ad blocker rule(s) and the page will load as expected.