"This is it - your final exam! Make me proud, Pumpkin!"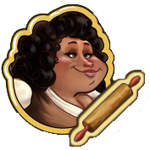 "Taste Test" is quest 10 out of 10 in the
Get Cooking
story line. You get it from
Mia
after completing "
Mia Culpa
".
Tasks
Reach Mastery Level 2 on 1 cooking recipe

Craft a recipe 50 Times to reach Mastery Level 2.

Have 8 Rolling Pins to use in baking.

Ask Friends for Rolling Pins. You can also get this from fishing.

Spread the love! Earn 50 Reputation.

Help Neighbors to earn Reputation. You can only have 100 Reputation, so you might need to spend some to earn more!
Reward
"Mmm-mmm! That was delicious! Keep on mastering your recipes, and YOU'LL be the famous chef!"
For completing this quest you will get

1,750 Coins and

35 XP, as well as 1 Chef Hat (Male) and 1 Chef Hat (Female). You can then proceed to the Where Have You Beans? quest starting the Cooking Appreciation storyline.

Hats off to X!
X passed Mia's cooking test!
Grab 250 Coins to celebrate!

Ad blocker interference detected!
Wikia is a free-to-use site that makes money from advertising. We have a modified experience for viewers using ad blockers

Wikia is not accessible if you've made further modifications. Remove the custom ad blocker rule(s) and the page will load as expected.