"A fish a day keeps the doctor away. At least... I THINK that's what they say?"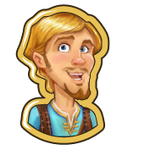 "Tasty Fillet" is quest 3 out of 5 in the
A Great Dish
story line. You get it from
Quinn
after completing "
Battered And Fried
" quest.
Tasks
Get 5 Lemon Slices to season the Fish Fillet.

Ask friends for Lemon Slices.

Gather 15 Wood Logs for a fire to cook the fish.

Collect Wood Logs by chopping trees.

Collect from 10 Houses in your Kingdom to see if anyone wants to join you for a meal.

Clik on Houses when they are ready to be taxed.
Reward
"Fish is ALWAYS the best with a little zest!"
For completing this quest you will get

1,000 Coins and

50 XP. You can then proceed to the "Neighborhood Fish" quest in the A Great Dish storyline.

Dinner is Served!
X and Quinn are ready for a fine fish dinner.
Get some Bass so you can make your own fish dinner as well.
Gallery
Ad blocker interference detected!
Wikia is a free-to-use site that makes money from advertising. We have a modified experience for viewers using ad blockers

Wikia is not accessible if you've made further modifications. Remove the custom ad blocker rule(s) and the page will load as expected.