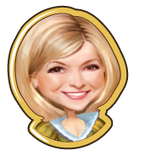 "Your Picnic party was a success! You're ready to throw a larger and more elegant Brunch Party."
"Thanks a Brunch" is quest 7 of 12 in the Martha story line. You get it from Martha Stewart after completing the How Eggciting! quest.
Tasks
Have 6 Linen to make some napkins.

Ask Friends for Linen. You can also get this from fishing.

Craft more items in the Spring Gazebo to unlock the Brunch Party!

Gain more Spring Spirit by crafting items in the Spring Gazebo.

Craft the Brunch Party.

Craft the Brunch Party in the Pavilion and place in your Kingdom.
Reward
"Your Neighbors are sure to be inspiried by your Brunch Party. Don't forget to visit thier Kingdoms to see if they are throwing spring parties, too!"
For completing this quest you will get

750 Coins and

15 XP. This completes the Thanks a Brunch quest and you can now start the Scrambling Around quest.
X is enjoying a Brunch!
All the right parts breakfast, all the right parts lunch!
The Duke said he was saving room for more food. Take his drink.
Gallery
Ad blocker interference detected!
Wikia is a free-to-use site that makes money from advertising. We have a modified experience for viewers using ad blockers

Wikia is not accessible if you've made further modifications. Remove the custom ad blocker rule(s) and the page will load as expected.