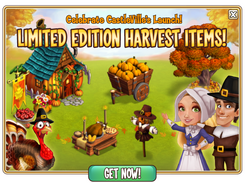 The Duke's Castle

The Duke's castle has been changed for thanksgiving 2011 (see picture). Notice the orange roofs, the golden walls and all of the objects scattered on the lands.
Limited Edition Items
For thanksgiving 2011 the following objects were added to the store for a limited time:
Buildings
Decor
Nature
Clothes
Goals
10 New Quests which you can find here at Goals. If there were more released please edit
Ad blocker interference detected!
Wikia is a free-to-use site that makes money from advertising. We have a modified experience for viewers using ad blockers

Wikia is not accessible if you've made further modifications. Remove the custom ad blocker rule(s) and the page will load as expected.