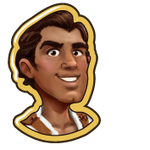 "Today's the day! The day maidens from Kingdoms the world over will faint in sight of my finesse with an Axe! The talent show is here!"
"The Big Day" is quest 3 out of 10 in the Rafael's Got Talent questline. You get it from Rafael after completing "Got Talent?".
Tasks
Have a completed Royal Chateau so we can host Rafael's Talent Show.

Build a Royal Chateau to improve your Castle and fight the Gloom!

Craft 4 Bags of Popcorn for the audience.

Popcorn can be crafted in the Kitchen.

Your guests will get thirsty! Craft 3 Bubbly Grogs.

Craft Bubbly Grog in the Kitchen.
Reward
"The guests are starting to arrive for the talent show! Perhaps we will have time for an autograph session?"
For completing this quest you will get

5,250 Coins and

105 XP. You can then proceed to the The Miner quest.
Facebook wall post message goes here
Ad blocker interference detected!
Wikia is a free-to-use site that makes money from advertising. We have a modified experience for viewers using ad blockers

Wikia is not accessible if you've made further modifications. Remove the custom ad blocker rule(s) and the page will load as expected.