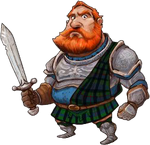 "That stroll was delightful, but it has left me famished! I couldn't very well leave here on an empty stomach, could I?"
"The Charms of the Kingdom" is quest 6 of 9 in the From the Knight Sky story line. You get it from Tom after completing the "Knight and Play" quest.
Tasks
Craft 3 Plates of Spaghetti for Tom. A big man needs a big dinner.

Craft Plates of Spaghetti at the Kitchen.

Collect 20 Milk Bottles to wash it all down.

Click on ready adult Cows to collect Milk.

Harvest 15 Flax to help Tom get his daily fiber.

Plant and Harvest Flax on Farm Plots.
Reward
"Mmm... there's nothing like home cooking. At this rate, I'm going to have to ROLL to my next adventure! Hoho!"
For completing this quest you will get 1 Small Energy Potion,

1,750 Coins and

35 XP. You can then proceed to the Knight Visits quest.

Tom is Getting Impressed with X's Kingdom
X would like Tom to settle here. A Knight would be handy.
A small purse of Coins is always handy. Grab some.
Gallery
Ad blocker interference detected!
Wikia is a free-to-use site that makes money from advertising. We have a modified experience for viewers using ad blockers

Wikia is not accessible if you've made further modifications. Remove the custom ad blocker rule(s) and the page will load as expected.