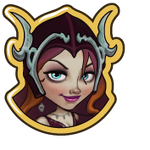 "You want me to go on a date with another TALL, DARK, and HANDSOME wizard?"
"The Dating Game" is quest 7 out of 8 in the Hazel's Heartbreak questline. You get it from Hazel after completing "Wolf Charmer".
Tasks
Craft 3 Candles to set the mood for Hazel and Alastair's date.

You must have a Tailor in your Kingdom before you can make Candles in your Studio.

Craft 3 Moist Coffee Cakes for Alastair and Hazel to eat on the date.

Craft Moist Coffee Cakes in the Kitchen.

Have 6 Pails of Water to cool things off.

Get Pails of Water from fishing.
Reward
"Alastair is quite the powerful wizard, but I guess I'm just into bad boys... and Faugrimm is the baddest of them all!"
For completing this quest you will get

2,000 Coins and

40 XP, as well as 1 Romantic Dinner Table. You can then proceed to the Unbreak Her Heart quest.
Facebook wall post message goes here
Ad blocker interference detected!
Wikia is a free-to-use site that makes money from advertising. We have a modified experience for viewers using ad blockers

Wikia is not accessible if you've made further modifications. Remove the custom ad blocker rule(s) and the page will load as expected.