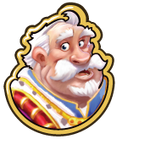 "The GEEZERS are surprisingly fashion conscious. Show off your Kingdom's haute couture!"
"The Duke's New Clothes" is quest 4 out of 6 in the GEEZERS Tasks IV questline. You get it from The Duke after completing "and Party Every Day!".
Tasks
Craft 5 Cotton Leggings to make sure that you fit in at least one of them.

Craft Cotton Leggings in a Studio.

Have 35 Wool Thread to keep up with your booming fashion industry.

You can craft Wool Thread in your Studio.

Tend your Tailor 6 times to keep checking up on the latest Fashion trends.

Click on your Tailor when it's ready to tend it.
Reward
"Your Kingdom's fashion sense is sure to impress the GEEZERS. As for me? I'll take a pair of those Leather Pants, extra large!"
For completing this quest you will get

1,750 Coins and

35 XP. You can then proceed to the Lather, Rinse, Repeat quest.
Facebook wall post message goes here
Ad blocker interference detected!
Wikia is a free-to-use site that makes money from advertising. We have a modified experience for viewers using ad blockers

Wikia is not accessible if you've made further modifications. Remove the custom ad blocker rule(s) and the page will load as expected.