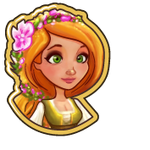 "We have to be careful entering the next area... it's the Friend Zone. For many suitors, their journey ends here."
"The Friend Zone" is quest 5 out of 13 in the To Woo a Maiden questline. You get it from Yvette after completing "Breaking the Ice".
Tasks
Chop 4 trees in Amouria as kindle for the Sparks of Interest.

Collect Wood by chopping trees in Amouria.

Light 3 Sparks of Interest in Amouria.

Click on the Sparks of Interest in Amouria to see what it takes to light them.

Mine 6 rocks in Amouria to look for diamonds Quinn could use as gifts.

Click on rocks in Amouria to mine them.
Reward
"We got Quinn through Genevieve's Friend Zone! Trust me, it's not always that easy."
For completing this quest you will get

1,500 Coins and

30 XP, as well as 2 Spark of Interest. You can then proceed to the Mr. Big Bucks quest.

Call Him, Maybe!
Now that Quinn has lit the flames of love, Genevieve is definitely starting to warm up to him.
Take a Candle, and you'll feel the heat, too!
Ad blocker interference detected!
Wikia is a free-to-use site that makes money from advertising. We have a modified experience for viewers using ad blockers

Wikia is not accessible if you've made further modifications. Remove the custom ad blocker rule(s) and the page will load as expected.