"My father is so brave! I'm staying to fight the Gloom. I'll leave him a note if - WHEN - he returns."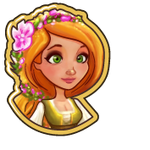 The 10th of 10 missions in the Father's Love quest chain obtained from Yvette. It immediately follows the Afraid of the Dark mission.
Tasks
Quest Image
Task
Skip

Have 10 Parchments for Yvette's note.

This item can be crafted in the Studio!

? Crowns

Have 1 Bottle of Ink to write with.

This item can be crafted in the Studio!

? Crowns

Visit 10 Neighboring Kingdoms to leave copies of the note - just in case.

Click on the Neighbor Bar to visit their Kingdoms.

? Crowns
Reward
For completing this mission you will get 3,250 Coins and 65 XP.

| | |
| --- | --- |
| Previous Goal | Next Goal |
| Afraid of the Dark | This is the last goal for now. Congratulations! |

"The egg hatched into a golden goose! Don't see that every day. It's a sign we'll beat the Gloom!"
Ad blocker interference detected!
Wikia is a free-to-use site that makes money from advertising. We have a modified experience for viewers using ad blockers

Wikia is not accessible if you've made further modifications. Remove the custom ad blocker rule(s) and the page will load as expected.