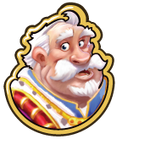 "Maybe we can lure him back with some food. Prine loved food almost as much as me!"
"The Lost Prince" is quest 1 out of 5 in the When Dukes Cry story line. You get it from The Duke after completing the Puppy Love story line.
Level required: 18
Tasks
Tend the Duke's Butcher in his Kingdom to see if you can get Prince to come back using food.

Visit the Duke and click on his Butcher to tend it.

Collect 8 Meat from Pigs to help lure Prince back.

Tending adult Pigs in your Kingdom has a chance to produce meat!

Have 5 Cow Hide. They make great raw hide treats!

Tend adult Cows for a chance to get Cow Hide.
Reward
"Normally the sound of me opening the Kitchen door sends Prince running. This has me worried. I hope Prince is okay!"
For completing this quest you will get

2,000 Coins and

40 XP. You can then proceed to the Somewhere Here on Earth quest.

The Missing Prince
Prince has gone missing! Can you help the Duke find his lost Puppy?
Help solve this mystery and get some Mystery Meat for your troubles.
Ad blocker interference detected!
Wikia is a free-to-use site that makes money from advertising. We have a modified experience for viewers using ad blockers

Wikia is not accessible if you've made further modifications. Remove the custom ad blocker rule(s) and the page will load as expected.