"I've traveled far and wide to find that fish is the best of ANY dish!"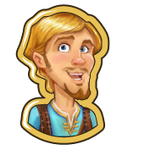 "The Main Dish" is quest 1 out of 5 in the
A Great Dish
story line. You get it from
Quinn
for some reason...
Tasks
Catch 10 Bass to prepare the dish.

You can catch Bass by fishing.

Harvest 8 Cabbage to garnish the fish dish.

You can plant Cabbage in an empty Farm Plot.

Buy a Wishing Well so you can wish to find even more fish.

Wishing Wells can be found under the Decor tab in the Market.
Reward
"For fish, we can now stop looking. We now have to prepare for cooking!"
For completing this quest you will get

1,500 Coins and

30 XP. You can then proceed to the "Battered And Fried" quest in the A Great Dish storyline.

An Odd Dance
X has never seen anyone dance with a fish like that before!
Grab a Bass so you can join in on the dance.
Gallery
Ad blocker interference detected!
Wikia is a free-to-use site that makes money from advertising. We have a modified experience for viewers using ad blockers

Wikia is not accessible if you've made further modifications. Remove the custom ad blocker rule(s) and the page will load as expected.