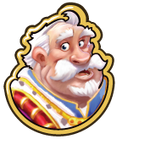 "I know! Let's have you pull a sword out of a stone. I bet the GEEZERS haven't seen anyone do that for a while!"
"The Once and Future King" is quest 6 out of 6 in the GEEZERS Tasks II questline. You get it from The Duke after completing "Mr. Clean".
Tasks
Purchase 1 Rock to put a sword in (so you can pull it out later).

Purchase Rocks in the Market.

Craft 1 Hammer to get the Sword into the stone.

Craft a Hammer at a Workshop. You will need a Blacksmith to craft the Hammer.

Mine the Rock you bought to place the sword into the stone.

Click on a Rock in your Kingdom to mine it.
Reward
"Nothing is more heroic than pulling a sword from a stone. Especially when you put the sword there in the first place!"
For completing this quest you will get

3,250 Coins and

65 XP. You will then receive another upgrade to the Griffin Statue, and can then proceed to the Charity Begins At Home quest in the GEEZERS Tasks III questline.
Heroes Never Die...
A fantastic feat of heroism has just been performed by X.
Have a Parchment and help them reply to all their new fan mail before it's too late!
Ad blocker interference detected!
Wikia is a free-to-use site that makes money from advertising. We have a modified experience for viewers using ad blockers

Wikia is not accessible if you've made further modifications. Remove the custom ad blocker rule(s) and the page will load as expected.