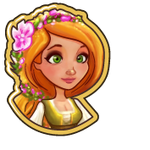 "We've got to work quickly. The Unicorns are counting on us. Restore the Beacon of Generosity!"
"The One Tower" is quest 8 out of 10 in the Unicornucopia story line. You get it from Yvette after completing "Scouting Ahead ".
Tasks
Craft 4 Hammers to break the rock around the Unicorn Tower.

You can craft Hammers in the Workshop after you build a Blacksmith.

Remvoe 2 Amythite Rocks using Rifting Scepters.

Click on Amythite Rocks to remove them using Rifting Scepters. Rifting Scepters can be crafted at the Studio.

Restore the Beacon of Generosity

Click on the broken Beacons to restore it.
Reward
"Alastair said that if we activated the Beacons of Harmony we will see a Unicorn Herd. That would be wonderful!"
For completing this quest you will get

3,250 Coins and

65 XP, as well as 1 Male XX Crown and 1 Female XX Crown. You can then proceed to the Six Degrees of Beacon quest.

X has discovered the Unicorn Tower!
It's trapped in rocks!
Take this Iron Pick and see if you can break some rocks.
Ad blocker interference detected!
Wikia is a free-to-use site that makes money from advertising. We have a modified experience for viewers using ad blockers

Wikia is not accessible if you've made further modifications. Remove the custom ad blocker rule(s) and the page will load as expected.