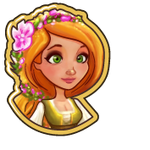 The "The Savage Beast" is a mission you would get from Yvette. You get this mission right after finishing Hoodwinked mission. This is the 9th Mission from a Series of 14 Missions in the Lovelorn Quest.
"If I can't find a prince, I'll turn a beast into one. The Gloom Lord turns people into beasts right?"
Tasks
Quest Image
Task
Skip

Clobber Gloom Wolves 10 times to find one suitable to change into a prince.

See Tip below.

? Crowns

Have 3 Rope to tie the Gloom Wolf up so Yvette can find her prince.

Kinky!

15 crowns Crowns

Have 1 Cotton Leggings so the beast has pants to wear.

You can craft these in your Studio!

50 crowns Crowns
Reward
For completing this mission you will get 2,500 Coins and 50 XP.

"Lesson learned. Gloom Wolves do NOT like wearing pants! Can't a girl get a break for once?"
Tip
You don't need to clobber 10 Gloom Wolves. Banishing one Gloom Wolf takes 5 hits. So what is 10 divided by 5? 2! So you only need to banish 2 Gloom Wolves!
Ad blocker interference detected!
Wikia is a free-to-use site that makes money from advertising. We have a modified experience for viewers using ad blockers

Wikia is not accessible if you've made further modifications. Remove the custom ad blocker rule(s) and the page will load as expected.