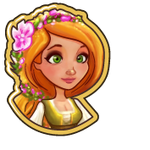 "I'm not sure about this last spell, but if Ben says it's safe, I'll trust him."
"The Sheep Don't Seem to Mind" is quest 10 out of 10 in the A Force of Nature questline. You get it from Yvette after completing "Preparation and Perspiration".
Tasks
Use 3 Animal Treats to apologize to your Animals in advance.

Craft in the Kitchen or purchase from the Consumables section of the Market.

Cast the Lucky Rainbow spell on 2 Sheep in your Kingdom to collect extra materials from them.

Click the Spellbook button to cast Spells.

Feed 4 Sheep enchanted by the Lucky Rainbow Spell to see what you get.

Cast the Lucky Rainbow Spell on the Sheep, then feed it, to collect new rewards from it.
Reward
"I have to admit that I had my doubts about Ben's last spell, but those sheep sure are giggling a lot!"
For completing this quest you will get

1,750 Coins and

35 XP. It will also unlock a new symbol for your Royal Crest.
The sheep don't seem to mind!
X is casting magical enchantments on their sheep.
Take this Red Feather. One of the sheep just left it behind - what?!
Ad blocker interference detected!
Wikia is a free-to-use site that makes money from advertising. We have a modified experience for viewers using ad blockers

Wikia is not accessible if you've made further modifications. Remove the custom ad blocker rule(s) and the page will load as expected.