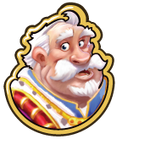 "A Unicorn egg will need to be protected by a Unicorn Nest. We'd better figure out how to build one by asking those who may know!"
"The Unicorn Egg" is quest 3 out of 10 in the Eggstraordinary Evidence story line. You get it from The Duke after completing "Egging Him On ".
Tasks
Fish for answers in 3 Neighbors' Kingdoms.

Travel to your Neighbors' Kingdoms and fish.

Tend 15 Flowers in an effort to find some friendly woodland creatures.

Click on a Flower to tend it.

Make 3 Ice Creams. Eating like a Unicorn can make you think like a Unicorn.

Make Ice Cream in the Kitchen.
Reward
"Once again, the ways of science triumph! Now we can build the Unicorn Nest!"
For completing this quest you will get

1,000 Coins and

20 XP.
You can then proceed to the Nest of the Unicorn quest.

Super! Natural!
X is building something magical in their Kingdom.
Here's some Fairy Dust to make your day a little more magical.
Gallery
Ad blocker interference detected!
Wikia is a free-to-use site that makes money from advertising. We have a modified experience for viewers using ad blockers

Wikia is not accessible if you've made further modifications. Remove the custom ad blocker rule(s) and the page will load as expected.